Versión en Español
Get Connected - We are the people who know people™
---
NEWSLETTER - APRIL 2016
Introduction
A message from us
"Welcome to the monthly edition of the World Trade Center Panama Newsletter! Through this monthly newsletter we interconnect our members and inform our tenants by sharing useful information about WTC Panama. We also showcase the ongoing activities and the latest updates on upcoming and past events, as well as the international relationship of WTC Panama with other WTC's through the WTC Association." Remy Swaab, Executive Director, WTC Panama.
Close to Home
WTC Panama Complex to its Tenants
New officers elected during General Assembly WTC Panama
During the General Assembly of the WTC Panama , held on the 25th of February 2016, new officers haven been chosen for the Board of Directors. Mrs. Donna Siebrasse, Partner of the Communications and Public Relations firm in Panama, Sanchiz, Siebrasse & Asociados SA, was elected on February 25th, as the new President of the Board of Directors of the WTC Panama organization. Sanchiz, Siebrasse & Asociados SA, with more than 30 years of experience in the national and international markets, is one of the longest members of WTC Panama, and was among the founding companies of the World Trade Center Panama. Mr. Julio Jolly, Managing Partner Global Partner Advisory director as the new Member of the Board of Directors of the WTC Panama Complex.
Member Acknowledgment
WTC Panama Member to Member
Words from Mr. Camilo Cardoze – Carhei Consultores / EMA Partners Panama
We are pleased to announce EMA Partners International's expansion into Panama, with its newest office located in Panama City. The practice was first established in 1996 as Carhei Consultores, member of WTC Panama, and offered services in the Republic of Panama. Since that time, the firm has become well established, and it is recognized as one of the region's leading consulting firms in executive search. Today, EMA Partners Panama manages clients from national corporate groups, subsidiaries of multinational companies, banks and other financial services companies, as well as businesses in commercial and industrial sectors.
The association with an established international search firm will give us more exposure locally and internationally. And we look forward to sharing our experiences in executive search, as well as current practices and trends in our business with our global partners. We believe this association will give us the opportunity to offer our services to international companies that are considering Panama as a strategic point for expanding their businesses in Latin America and the Caribbean.
Mr. Jean Raymond, Regional Chairman of the America's at EMA Partners International stated: "It is a privilege to welcome Mr. Cardoze and his team of consultants. We recognize that our expansion into Panama widens our international scope and affords the organization much to look forward to when working on cross-border searches."
Since 1988, EMA Partners International has built a global partnership of executive search professionals, and is currently one of the largest executive search firms in the world. With more than 40 offices on six continents they are dedicated to satisfying the senior executive search and talent management needs of their clients. For more information, please contact Lourdes Guerra V., Sr. Consultant & Manager at EMA Partners Panama: +507 264 8480 / [email protected]
Member At Heart
WTC Panama to its Member
Strategic Alliance WTC Panama and Capital Financiero
On March 22nd, WTC Panama and Capital Financiero, signed a strategic alliance that will offer WTC Panama members to enjoy numerous benefits to promote their companies. Some of these benefits are:
A special subscription rate for the members and tenant of WTC Panama
An exclusive advertising rate in the different media channels of Capital Financiero
Mr. Remy Swaab, Executive Director of the World Trade Center Panama and Mr. Néstor Altuve, General Manager of the leading financial and business weekly publication, "Capital Financiero", signed this Strategic Alliance to foster synergies between these two well-known cornerstones in the business market, promoting national and international business using their respective platforms, reach and competitive advantages in local and international marketplaces. Mr. Marco Williams De Souza, Founding Partner of Williams & Associates and Mrs. Donna Siebrasse, Managing Partner of Sanchiz, Siebrasse & Asociados, S.A., were witnesses to this key agreement. Click here for more information
GLOADSO organized CCISO Certification event in Panama
Global Advisory Solutions, GLOADSO, official representative in Panama, has organized a 4-day event to introduce the international certification program CCISO (certified Chief Information Security Officer) in Panama. The CCISO Certification is an industry-leading program that recognizes the real-world experience necessary to succeed at the highest executive levels of information security. Bringing together all the components required for a C-Level positions, the CCISO program combines audit management, governance, IS controls, human capital management, strategic program development, and the financial expertise vital to leading a highly successful IS program.
The intent for this exclusive high-level event, which has been brought to Latin America for the first time, was to create a platform to facilitate effective knowledge exchange, where the latest information security threats and land scape evolution were being discussed and debated. This event took place from the 4th of April for 4 days. For more information about this event please contact Global Advisory: [email protected] / (507) 392 3200 / www.gloadso.com or find more information about this Certification: https://ciso.eccouncil.org
Connected to the World
Connection between WTC's
WTC Mississippi presents B2B opportunities
World Trade Center Mississippi would like to share an opportunity for international buyers, sellers, and investors to further develop and expand their global client bases. The Gulf Coast Trade Alliance Conference, representing Alabama, Florida, Louisiana and Mississippi, has provided a platform for regional companies and international buyers to meet for nearly two decades. Located at the Beau Rivage Resort in Biloxi, Mississippi from May 9th-11th, this conference boasts representation from the above states as well as more than 25 countries.
Target industries include manufacturing, agribusiness, automotive, aerospace, construction/infrastructure, technology, healthcare, and energy, among many more. This forum provides one of the best opportunities for international buyers to arrange business-to-business meetings with companies representing these sectors from all across the Gulf Coast, with the goal of identifying both trade and investment prospects present in the region. This opportunity holds significant potential for those companies wishing to expand trade relations or explore future investment prospects. For more information on this event click here. If you are interested in attending please contact WTC Panama: [email protected].
China Import Expo, Kunshan 2016
This year from May 19th till May 21st together with the Ministry of Commerce of the People's Republic of China, China Council for the Promotion of International Trade and People's Government of Jiangsu Province they WTC Nanjing, WTC Quanzhou and WTC Beijing are holding an exposition of imported to China foreign products, as well as matchmaking session for those foreign businessmen who are looking forward to meet potential buyers or distributors of their products in China, the China Import Expo (CIE). This Exposition will be divided into three parts; 1. Consumer goods show, 2. Environmental protection show, 3. Intelligent manufacturing show.
The matchmaking session organized by World Trade Center Beijing and supported by World Trade Center Nanjing is perfect for foreign exporting companies or goods manufactures to access Chinese market, as well as for Chinese importing companies, distributors or retailers to find overseas partners. Aside from a standard booth for each exhibitor to showcase their products and talk with leads, they will also arrange a business match-making meeting where each exhibitor will meet at least 5 counterparts from China. In addition to CIE programs in Kunshan and Suzhou, they will offer your business a cultural experiences with a tour in Ningbo and Shanghai. For more information click here
WTCA General Assembly in Algeria
The next, 47th General Assembly will be hosted by World Trade Center Algiers, Algeria on April 17 – 20, 2016. This event "Better Together: Growth Through Community" will be located at the 5-star Hotel Aurassi, overlooking the Bay of Algiers. During the event WTC Algiers will highlight the international business and investment opportunities that this North African business hub has to offer. But for more information about Algeria: Occupying a strategic position in North Africa, with its major population centers abutting the Mediterranean and its hinterland stretching deep into the desert, Algeria is home to 39.5m people, making it the 34th-most-populous country in the world. The country profits from a rich and varied natural resource base, extracting oil, gas, phosphates, uranium, iron ore, zinc and lead. It is the 19th largest producer of crude oil globally, with an average production rate of 1.42m barrels per day in 2014. Algeria's foreign policy has long been characterized by an independent streak, which has allowed the country to broaden its diplomatic ties to strengthen and deepen trade ties.
Panama News
Lufthansa flies to Panama
The direct Lufthansa service between Panama and Frankfurt has begun on March 2, 2016. The flight is offered throughout the year and connects the German city five times weekly with Panama, using an Airbus A340-300. With the introduction of flight LH 485, passengers from Panama and Central American countries have access to one of the largest airline networks worldwide. From Frankfurt, its main base, Lufthansa, along with its group of airlines in the Star Alliance, serve more than 1,300 destinations worldwide. In order to give ease of connections to Lufthansa passengers from Germany to Central and South America, Lufthansa has concluded a codeshare agreement with Copa Airlines.
Panama's economy keeps growing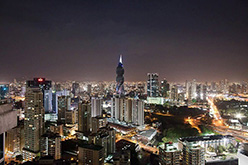 A broader economic base and less dependence on commodities gave Panama an edge over its Latin American peers in 2015, with the country recording the highest rate of growth in the region. During 2015, the production of goods and services in the Panamanian economy, measured by GDP, grew by 5.8% compared to the previous year. GDP in nominal terms amounted to B /52.132,3 million.
In 2016 the country's economy is expected to maintain a minimum growth of 6% and in subsequent years will be boosted by the opening of the expanded canal and the drop in fuel prices. Panama is expected to continue to have one of the strongest growth rates in Latin America, set against a backdrop of low inflation, a stable financial system, and a declining current account deficit.
Growth is projected to remain around 6 percent in 2016 and over the medium term. The economy will be supported by the expected opening of the expanded canal and lower fuel prices, which will counterbalance the effects of slowing global growth and U.S. dollar appreciation. Over the medium term, the increase in canal transit, a dynamic service sector, and investments in the energy, mining, and logistics sectors should help maintain vibrant growth. Read more /
New: Panamanian Chamber of Solar Energy
The new Chamber of Solar Energy was created in March 2016 by a group of business leaders in the renewable energy sector. Its goal is to bring together national and international companies who want to do business and who want to promote this sustainable source of energy in Panama. In the National Energy Plan 2015-2050, solar energy is expected to supply a larger part of the total energy demand. Read more
Upcoming Events
---

April 4 – 8 2016

CCISO Certification Event Global Advisory Solutions

More Information
Panama City, Panama

---

April 17 – 20 2016
WTCA 47th General Assembly
More Information
Algiers, Algeria

---

April 18 – 22 2016

Food Engineering Congress

More Information
Panama City, Panama

---

April 20 – 22 2016

Annual Conference of Executives

More Information
Panama City, Panama

---

April 21 – 22 2016

Aero Expo Panama 2016

More Information
Panama Pacifico, Panama

---

May 9 – 11 2016

Gulf Coast Trade Alliance (GCTA)

More Information
Mississippi, USA

---

May 11 -13 2016

IAPH Panama

More Information
Panama City, Panama

---

May 12 – 13 2016

Expofranquicia Costa Rica

More Information
Costa Rica

---

May 25 – 27 2016

Centrallia

More Information
Winnipeg, Canada

---

May 18 – 24 2016

China Import Expo

More Information
Kunshan, China

---

May 27 – 28 2016

Expo Tourism International 2016

More Information
Panama City, Panama

---

June 9 – 11 2016

Expo Invest

More Information
Panama City, Panama

---

Sept 22 – 24 2016

Expo Medica 2016

More Information
Panama City, Panama

---

Oct 18 – 20 2016

ExpoBizfit

More Information
Panama City, Panama

---

Oct 19 – 21 2016

Expo Logistica 2016

More Information
Panama City, Panama

---
Did You Know?
Soon they will open a new restaurant, Asia Wok, within the WTC Panama Complex, located in the Mezzanine in the Commercial Area, where you can enjoy delicious Asian food.
About Us
WTC Panama aims to expand communication, international market culture and business services. The primary goal of the WTC Panama is to bring together the businesses involved in international commerce and provide them with services that will help facilitate growth. WTC Panama connects various economic segments locally and globally and is a member of the World Trade Centers Association. This Association stimulates trade and investment opportunities for commercial property developers, economic development agencies and international businesses looking to connect globally and prosper locally through the exclusive 330 'World Trade Center' branded properties and trade service.
The content is based on public information from various sources, such as news articles, websites and press releases. WTC Panama is not responsible for the accuracy of the information. For comments or to (un)subscribe:

[email protected]


Additional credits: Yatzel Salceda

---
World Trade Center Panama,53rd Street, Marbella, Panama City, Republic of Panama | PO Box 0832-0001
Offices: T +507 265 7848 | F +507 269 6126 | E

[email protected]

| www.WTCPanama.org
---