Versión en Español
Get Connected - We are the people who know people™
---
NEWSLETTER - MAY 2015
Introduction
A message from us
"Welcome to the monthly edition of the World Trade Center Panama Newsletter! Through this monthly newsletter we interconnect our members and inform our tenants by sharing useful information about WTC Panama. We also showcase the ongoing activities and the latest updates on upcoming and past events, as well as the international relationship of WTC Panama with other WTC's through the WTC Association. " Remy Swaab, Executive Director of WTC Panama.
Close to Home
WTC Panama Complex to its Tenants
New Operations Manager at WTC Panama Complex
The management of the WTC Panama Complex wishes to communicate that Ing. Manuel Paz has been appointed as the new operations manager. Ing. Paz is a civil engineer graduated from the Universidad Tecnológica de Panamá and has experience in both high level management as well as civil projects. His valuable experience will benefit the Complex in its ongoing structural maintenance and improvements as well as long term projects. You can contact him by calling the administration office at 265-7848 or by email: [email protected].
Successful Fire Drill from Chevron Panama
On Friday, the 24th of April, Chevron, that is located on the first floor of the WTC Panama Office Tower, held there yearly Fire Drill in cooperation with the WTC Panama personnel of Maintenance and Security. Official instances were involved during the fire drill such as the Fire Department, Police and Traffic Authority. At 10.18AM the internal Fire Alarm of Chevron went off and its personnel evacuated the building in less than 2 minutes. They proceeded to the meeting point across the street in front of the Orale Restaurant. The Fire brigade arrived in less than 20 minutes and proceeded to do their entrance and check. This teamwork proves good working ethics and human resource responsibility. Just as Chevron invests in Security Culture so does the WTC Panama Complex. Making sure that high security standards are always kept at the Complex level.
Member Acknowledgment
WTC Panama Member to Member
Words from Ing. Emir Ricardo Mujica - SEDA College Panama
SEDA College is a modern English language and Business school located in the heart of Dublin, Ireland. The college has ACELS accreditation – highest quality mark for English language providers in Ireland. Our teaching language staff are specialists in their fields, and we are investing in exciting new technology to ensure that we will be the leading edge in training and learning in Ireland. Our passion for the future is based on solid foundations. We are of the best Language Colleges in Dublin and Ireland.
In addition to being a member of the Irish Exporters Association, SEDA is also a member of EAQUALS (Evaluation & Accreditation of Quality in Language Services) - international association of institutions and organizations involved in language education. Just 10 English language schools in Ireland, including SEDA College, satisfy the requirements of EAQUALS membership. Since 2012 SEDA College is recognized by ACELS, a service of Quality and Qualifications Ireland, for English language teaching (ELT). Currently ACELS is the highest quality mark for English language schools in Ireland. More Information
Words of ENECON – Advanced Polymers
ENECON® is a recognized world leader in advanced polymer technologies with over 75 years of experience and we are present in more than 50 different countries. ENECON® provides industries, utilities and institutions with the finest repair and protection products and services. We have worked closely in the past with many diverse and prestigious organizations as the Panama Canal, Army Corps of Engineers, U.S. Navy, nuclear and fossil fuel power stations, etc. Our high performance polymer systems can be used for rebuilding, resurfacing and protecting all types of fluid flow machinery, equipment and structures. But also for any problems of: erosion, corrosion, cavitation, wear and chemical attacks. We are located on the 19th floor of the Office Tower of the World Trade Center Panama, office 1901. To contact us you can call us: (507) 388-0322 or via email: [email protected].
For more information please visit our website: www.eneconpanama.net
Members at Heart
WTC Panama to its Members
Words of Quintessentially Lifestyle - the World's leading Members-only concierge club
As a member of WTC, you will be prioritized to be considered as a Member of Quintessentially
Available 24 hours a day, 7 days a week, 365 days a year, our bespoke services are delivered with the highest level of commitment to provide our Members with the ultimate insider, specialist knowledge they need to bridge the gap between global and local. Today, Quintessentially Lifestyle's footprint spans 5 continents with physical offices in 68 cities; offering convenience, time saving, access and exclusivity to its Members through a global concierge team of 2,000 Lifestyle Managers. Quintessentially Lifestyle Panamá was inaugurated in June 2007 by Mr. René Estripeaut, its Chief Executive Officer. Today, our office employs 9 Personal Lifestyle Managers to serve our local Members, through 3 levels of Memberships, as well as our inbound Members. Success is about time and access, and one can never really place a true value on time and access. Through Quintessentially Lifestyle you can manage your travels, personal life, and other special needs, while preserving your anonymity. Should you wish to obtain more information, please do not hesitate to give our friends a call at +507 391 2757 or send an email at [email protected], don't forget to mention that you are a member of WTC Panama.
Connected to the World
Connection between WTC's
Presenting WTC New Orleans
The World Trade Center of New Orleans, founded in 1943 and recognized as the first of what are today over 300 WTCs worldwide, consists of 1,ooo+ company and individual members and prides itself on being the state's strongest and most experienced international organization. WTC New Orleans counts among its membership many leading multinational corporations and selects small and medium-sized enterprises located throughout the Gulf region and concentrated in the state of Louisiana with strong business interests in global markets. Their members represent a broad spectrum of sectors including banking and financial services, legal, and manufacturing, transportation, and mining, oil and gas and government agencies. From June 24, 2015, Copa Airlines, who just signed a $6.6 billion deal to acquire 61 Boeing 737 planes during the Americas Summit, will offer the only direct airline service, four times per week, between Panama and New Orleans. This will be Copa's 71st destination and the 11th in the US. Contact WTC Panama for more information or/and if you would like to know more about the benefits and discounts when doing business with WTC New Orleans. Read more.
Panama News
Panama is home to 110 multinationals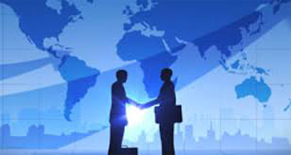 The General Directorate of Multinational Corporations in Panama has registered over 110 companies. All of these Multinational Corporations have chosen Panama in order to establish their regional operations under special regime in Panama. During the first two months of the current year, 3 new companies have been registered and began their operations in the Republic of Panama with initial investment in the amount of $ 7,141,000.00, according to the Minister of Trade and Industry. Read more
Location of Fourth Canal Bridge Defined
The Inter-Institutional High level Commission of Panama (Comisión Interinstitucional de Alto Nivel), led by the President of Panama, announced after analyzing technical studies that the fourth bridge should be built north of the Bridge of the Americas. The Commission stated that the project will be an extension of the Northern Corridor Highway and will include the construction of 6 new vehicle lanes and 2 exclusive lanes for Metro Line 3. Read more.
Upcoming Events
Did You Know?
If you need parking space, there is availability to rent them in the underground level 1.
For more information please contact: [email protected]
About Us
WTC Panama aims to expand communication, international market culture and business services. The primary goal of the WTC Panama is to bring together the businesses involved in international commerce and provide them with services that will help facilitate growth. WTC Panama connects various economic segments locally and globally and is a member of the World Trade Centers Association. This Association stimulates trade and investment opportunities for commercial property developers, economic development agencies and international businesses looking to connect globally and prosper locally through the exclusive 330 'World Trade Center' branded properties and trade service.
The content is based on public information from various sources, such as news articles, websites and press releases. WTC Panama is not responsible for the accuracy of the information. For comments or to (un)subscribe:

[email protected]


Additional credits: Yatzel Salceda

---
World Trade Center Panama,53rd Street, Marbella, Panama City, Republic of Panama | PO Box 0832-0001
Offices: T +507 265 7848 | F +507 269 6126 | E

[email protected]

| www.WTCPanama.org
---