Versión en Español
Get Connected - We are the people who know people™
---
NEWSLETTER - MARCH 2015
Introduction
A message from us
"Welcome to the monthly edition of the World Trade Center Panama Newsletter! Through this monthly newsletter we interconnect our members and inform our tenants by sharing useful information about WTC Panama. We also showcase the ongoing activities and the latest updates on upcoming and past events, as well as the international relationship of WTC Panama with other WTC's through the WTC Association. " Remy Swaab, Executive Director of WTC Panama.
Member Acknowledgment
WTC Panama Member to Member
Words from Antonio Escalona, General Manager, Digital Print
Digital Print is a young and dynamic company with 4 years in the Panamanian market. Our policy is to adapt to the needs of our customers and to assure you as customers an efficient service in our delivery time and the quality of the final product, to create your brand's presence in the business environment. We have commercial and advertising offset printing of:
Corporate stationery: Sheets letterhead, envelopes and folders, business cards and invitation.
Print advertising: Brochures, catalogues of products, rates, flyers, leaflets, brochures, postcards, calendars, labels, menus, tickets.
Blocks of formats: Receipts, invoices, orders, recipe books, pay stubs.
We are located on the ground floor of the WTC Panama Complex, Local 5, next to Banistmo. Opening hours: Monday to Friday from 8:30am to 12:00am and from 1:00pm to 6:00pm. Tel: 396-9424 / 6269-7463. Email:

[email protected]

Website: www.digitalprint.com.pa
Connected to the World
Connection between WTC's
46th WTCA General Assembly in Manila, the Philippines
The 46th WTCA General Assembly, hosted by WTC Metro Manila in the Philippines, is titled Better Together through Global Unity and Cooperation and will take place from the 26th until the 29th of April. The WTCA annual General Assembly is a forum for World Trade Center executives and board members, as well as international business leaders to exchange ideas, shape actionable strategies, and gain exposure.
This years' program will focus on: Strengthening the WTCA network through shared information on leadership, positioning, operations, and revenue generation; Identifying the best trade and investment opportunities in the Philippines; Understanding the impacts of politics, economics, and culture on Doing Business in the Philippines and Building and enhancing relationships among WTC representatives, as well as local business leaders, through a myriad of dynamic networking forums and events. If you are interested in joining them for Better Together, to share your opinions and fresh insights at one of the world's premier international business gatherings - the WTCA General Assembly - click here for more information
Panama News
Panama's new boost of energy
Hydroelectric Bonyic is part of the EPM Group, Empresas Públicas de Medellin, and is the first international hydropower generation project of the EPM Group that has been built abroad. The first of three turbines at Bonyic hydroelectric station has started generating electricity to the electrical system of Panama, with an overall investment of $314 million, for a total of 32MW. Bonyic is located in the Changuinola district, in the province of Bocas del Toro, near the border with Costa Rica. The first hydropower turbine started generating energy last January, the second turbine at the end of February and the third, and last turbine, will operate in the last week of March. Because it is hydraulic energy and not thermal energy, it will help to decrease the value of tariffs in Panama and contribute to the quality of life.
While working on this project EPM Group worked together with the indigenous communities in the area. Resources for road infrastructure, computer centers, classrooms and school canteens have been built; college scholarships were awarded; health posts have been allocated for seven communities, and they agreed on archaeological heritage management. Additionally, 1,400 jobs have been created. Read More
Investment Grade Reaffirmed in Panama
In its latest report on Panama, Fitch Ratings has affirmed Panama's investment grade as BBB with a stable outlook. This qualification corresponds with Standard & Poor's (BBB stable) and Moody's (Baa2 stable) qualification. Fitch highlighted the dynamism and diversification of Panama's economy and projected that the Gross Domestic Product of Panama will grow by 6% in the period of 2014-2015, which is the highest rate in the category of 'BBB'.
Fitch Ratings has affirmed the foreign currency rating for Panama's long-term and local currency issuer ratings at 'BBB'. The issue ratings of unsecured senior bonds in foreign and local currency by Panama are also rated 'BBB'. The outlook for long-term exams is stable. The country ceiling is affirmed at 'A' and the short-term foreign currency at 'F3'.
Rating Outlook of Stable affirmed for Panama reflects the following factors: Panama's ratings are supported by the success of its dynamic and diversified economy based on services. Fitch expects growth will average around 6% in 2014-2015, with the support of the Panama Canal expansion and its indirect effects on other logistics activities. The increase in foreign direct investment in mining, energy and tourism could further diversify the economy. Trade liberalization and a favorable business climate support a positive outlook for the private sector, although the designation of Panama in the OECD's "gray list" because of inadequate controls on illicit financial activity poses risks to the reputation of some financial services and to integrated business worldwide. Read More
News from The Americas
Panamanian Coffee Promotion in US
The Panamanian Ministry of Trade and Industry is inviting coffee producers to participate in an exhibition of specialty coffees that will be held from the 9th until the 12th of April in Seattle, USA. Nine Panamanian coffee producers have already confirmed their attendance at one of the most important trade fairs in the US coffee industry: the Specialty Coffee Association of America 2015 (SCAA). The Arabian and Geisha coffee varieties will be promoted by the businesses Hiu Coffe, Don Pachi Estate, Carmen Estate Coffee, Casa Ruiz, Café Kotowa, Hacienda Esmeralda, Café Volcán Barú and Beneficios de Café de Boquete.
The Panamanian Vice Minister of Foreign Trade said "... We are inviting Panamanian producers to approach the ICIM and find out about the facilities offered by the institution for this and future fairs which Panama should be taking advantage of, even more considering the advantages offered by free trade agreements which have been signed." Read More
The 10 consumer trends for Latin America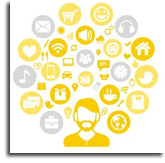 Using cultural observation, trend spotting, scenarios, design thinking and other future tools, Bautista, a research and marketing consulting firm that tailors strategies for clients working in Latin America, has identified 10 key trends that will affect companies doing business in Latin America in 2015:
Upcoming Events
Did You Know?
The WTC Panama Complex is one of the exclusive buildings to have a full servicesPost Office;
it is located on the 1st floor of the Commercial Area
About Us
WTC Panama aims to expand communication, international market culture and business services. The primary goal of the WTC Panama is to bring together the businesses involved in international commerce and provide them with services that will help facilitate growth. WTC Panama connects various economic segments locally and globally and is a member of the World Trade Centers Association. This Association stimulates trade and investment opportunities for commercial property developers, economic development agencies and international businesses looking to connect globally and prosper locally through the exclusive 330 'World Trade Center' branded properties and trade service.
The content is based on public information from various sources, such as news articles, websites and press releases. WTC Panama is not responsible for the accuracy of the information. For comments or to (un)subscribe:

[email protected]


Additional credits: Yatzel Salceda

---
World Trade Center Panama,53rd Street, Marbella, Panama City, Republic of Panama | PO Box 0832-0001
Offices: T +507 265 7848 | F +507 269 6126 | E

[email protected]

| www.WTCPanama.org
---